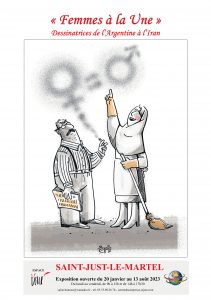 From January 20th to August 13rd, 2023 – Exhibition « Women in front page – Cartoonists from Argentina to Iran »
At the International Centre for Caricature, Press Cartoons and Humour in Saint-Just-le-Martel (France), women are honoured through a collective exhibition entitled « Strokes of Freedom » as well as an exhibition devoted to Iranian cartoonist, Firoozeh Mozaffari.
« Strokes of Freedom » is an exhibition that was presented for the first time in March 2022 at the Roberto Fontanarrosa Cultural Centre, in Rosario, Argentina. Under the impetus of the director of the Centre, Rafael Ielpi and the sponsorship of the municipality of Rosario, Marlene Pohle has collected works by women cartoonists from all over the world.
The purpose of the exhibition was to pay tribute to the many female cartoonists who struggle and demonstrate their talent and tenacity. Artists from Rosario and other regions of Argentina, as well as a selection of international illustrators were invited to participate. Forty-nine artits responded with great pleasure to this proposal.
The « Strokes of Freedom » exhibition, which brougt together around a hundred works by 15 Argentine cartoonists and illustrators and 34 artists from other countries, was inaugurated on March 10th 2022, for the anniversary of Universal Women's Day.
FIROOZEH MOZAFFARI was born in 1970 in Iran and studied graphic art in Tehran.
She works for several newspapers such as Shargh, Etemad, Farhikhtegan and the Khabar-Online News site. She has been a jury member in many international cartoon competitions in Iran and also in the 29th Aydin Dogan Cartoon competition in Turkey, Olive Competition in Cyprus in 2014 and World Press Cartoon in 2015.
She has received several awards for her works at festivals in Iran and was one of four Iranian cartoonists to receive Kofi Annan's Freedom of Expression Award.